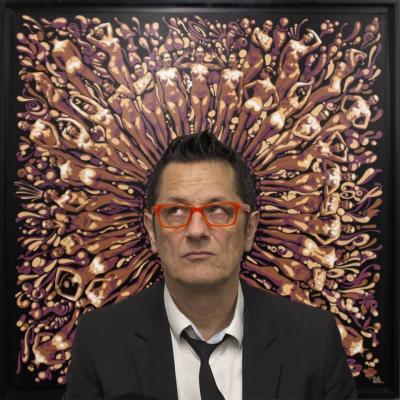 Biography
Paxal joined the Ecole des Beaux-Arts in Mulhouse at the age of 15, in evening classes. At the age of 16, he joined the school full-time. He then lives on publicity; illustrator and creative, he quickly runs his own agency. Then advertising does not entertain him anymore, he becomes a time artistic director in the edition, but brushes remind him ... in 1999 he joined the House of Artists.
Dust-stripped antiques and surrealistic surrealities on one side, dreamlike scenes and phantasmagorical compositions on the other, the constituents of his work, forms, lines in movement, living, psychedelic entities, share a single intention: to offer the eye a different perspective a clairvoyance, a new acuteness open on subtle planes.
His approach, bringing together old and new, figuration and abstraction, introspection and contemporary art, comics and sacred images, questions our Western way of life - gluttony, impatience, dispersion, permanent zapping. She wants the reflection and borrows her feverishness to better denounce, invite to appeasement, reflection, contemplation.
---