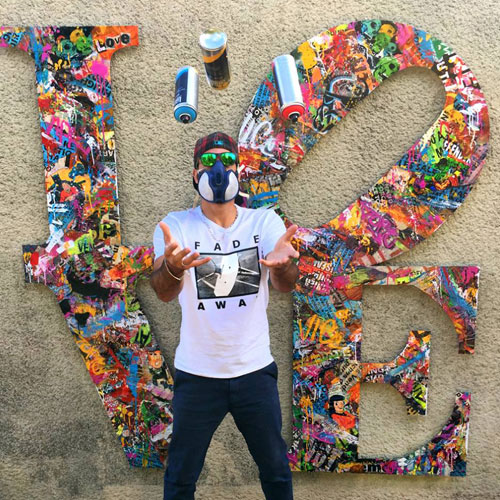 Biography
Born in Narbonne in 1987, Aiiroh is a French artist.
He began to graffiti at train stations in several cities, a place where artists have easy access to huge walls. Little by little, in the early 2000s, he began to work as a stencil artist, allowing him to proceed more quickly in the street, and discovered thanks to a friend the work of poster artists such as Raymond Hains, Villeglé, Dufrêne and Rotella.
These will become an obsession for the artist. "I am very inspired by this movement which for me has a great poetic dimension! I sometimes spend whole nights wandering around to find and tear off the poster that I like.
I think I add a touch of optimism and color and do not like to politicize my work too much, but today more than ever my artistic poster practice is echoed at the 1961 exhibition of Hains much touched: "France torn". In some of his works, he incorporates brands to recall the dependence of the human being on consumer products. The anarchy of dripping, the turbulence of the compositions stand in contrast with the pure lines of the graphics of the brand logos, but also the famous LOVE of the American artist Indiana.
Does the graphic force of these logos also have an effect on our collective unconscious as well as on our aesthetic codes? For several years, Aiiroh has already exhibited in twenty galleries in France and on the international scene (Switzerland, Italy, UK, Greece, Isreal, USA, Singapore, Hong Kong, Japan).
---