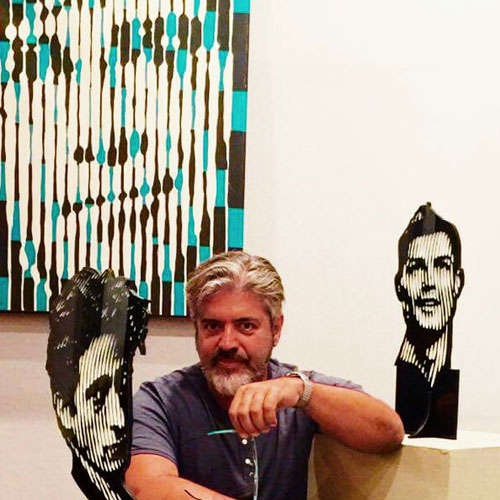 Biography
Marcos Marin, born in Brazil on September 12, 1967, is the son of a film producer and a lyrical singer.
From the age of five, Marcos attended classical piano lessons at the Sao Paulo Conservatory of Music. Very young, he started a virtuoso pianist career and came to study music in France in Angers. At the same time, he is passionate about painting.
At the Cité des Arts in Paris in 1990, Marcos meets Vasarely. Intrigued by the work of the latter, Marcos Marin embarks on the adventure of optical art. Successfully, since two awards come to crown his works: the Fiat Prize for his work on Christopher Columbus celebrating 500 years of the discovery of America (Fiat Museum of Turin) and the Philips Collection Award for the one on Mona Lisa.
During this decade, Marcos Marin plays an important role in the cultural development between Brazil and France for UNESCO AIAP.
In 2000, he moved to the US, to Miami Beach, where he set up his studio. 2003 is the year of his first monumental sculpture. It will be exhibited at the Coconut Grove Convention Center on the occasion of the inauguration of the Arteamericas Art Fair. He will win the "Best of Florida" contest.
In 2004 at Art Basel, Marcos Marin meets Delphine Pastor, who, seduced by his talent, invites him to exhibit in Monaco. The opening of the exhibition - which includes a beautiful portrait of Princess Grace, today at the new Monaco Museum - takes place just days after the death of Prince Rainier. Prince Albert then asks Marcos Marin to draw the official monument dedicated to his father. This monumental work is unveiled on January 18, 2006 at the entrance to Cirque de Fontvielle.
In 2006, Marcos Marin met the stylist and patron, Pierre Cardin, who offered him the opportunity to make large-scale works in the Lacoste workshop.
Meanwhile, Marcos Marin works in Portugal with Stanley Ho in the fiftieth anniversary of Casino Estoril. The patron will offer the artist two medals of honor: one thanking the artist for the exhibition dedicated to the Casino Gallery and the other for the portrait Stanley Ho made in Macau.
In 2009, invited to Japan as part of the Brazil-Japan friendship, the artist gets recognition for all of his work.
The monument "Jean Cocteau" optical sculpture is unveiled at the public in September 2011 at the Citadel of Villefranche-sur-mer, the first historic public work in the French territory of Marcos Marin.
The artist now lives and works in Monaco.
---