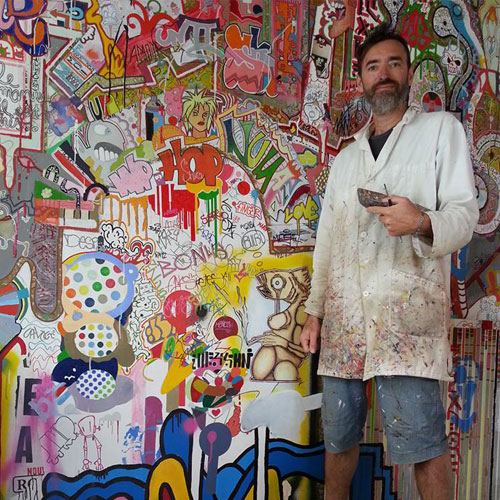 Biography
Emmanuel Pajot, born in 1969 in Rennes, holds his passion for art from his father. He reproduced works of great masters and Emmanuel was sometimes lucky to be able to assist him in his achievements. He studied journalism before devoting himself entirely to painting in 2012. The artist has been practicing for 20 years now with exhibitions in France but also internationally. The artist lives and works in Brittany.
He says he was influenced by Pop Art, Street Art and comics.
In the 90s, his contact with the artistic community of Rennes gives him the strength to embark on this adventure. His work is characterized by paintings inhabited by a multitude of characters, geometric shapes with bright and contrasting colors.
"Every space is often busy at the limit of saturation. I play with the abstract, I want the look to get lost and wander. In my paintings, the depth can go beyond the retina.
---